Hi I have a falcon 1959 , which has a s.25 carb I believe ( correct me if I'm wrong ) and whenever I turn the fuel tap on , fuel floods out the back of the carb from the hole where the air filter sits . Its starting to cause problems as my patio is covered in petrol . I have replaced the float and the small needle that is depressed by the float. Can anyone tell me why it keeps flooding and how I should fix it ?

S.C_07




Posts

: 83


Join date

: 2015-01-11


Age

: 17


Location

: Caterham



Maybe the needle isn't being pushed up enough.
there is a set distance for the forked piece my S24 states 3/16" between the top of the float and underside of the body.  plus check for the tickler, is it stopping the float from coming up?  I had the opposite problem, the tickler wasn't long enough and it was very hard to start.
nb The S24 & S25 are similar enough to be interchangeable.  I believe the S24 is a brass body & the S25 the newer alloy one.
found this here on FBOC
http://fboc.niceboards.org/t1017-s25-carb
3/16 inch appears to be normal float height

Bigjim




Posts

: 104


Join date

: 2016-06-13



Most likely cause is wear in the needle seat, the needle does not shut off the fuel, you have replaced the needle, but not the seat,?
Villiers services do a replacement seat, the old one has to be tapped with a thread to pull it out and a new one pressed in .
If you check this problem in the search box you will find this has been covered many times

JH

piston 197

Moderator




Posts

: 3543


Join date

: 2008-08-17


Location

: ross-on-wye



Hi
Thank you guys very much , sound advice. The tickler is jamming occasionally so ill sort that and I'll change the needle seat too as I haven't changed that either . But wat Ive noticed from images is that I'm missing the main jet ( stupid of me not to notice that 😂) so I'm looking in villiers services on which one to buy , but for the s.25 there are variations (55 / 75 / 80 and so on to 300) what do these number variations mean and which one do I need ?
Thanks
Scott

S.C_07




Posts

: 83


Join date

: 2015-01-11


Age

: 17


Location

: Caterham



A normal 9E, 10E or 11E uses, according to the Villiers manual
120cc main jet,
needle no 3˝; 1.95" sticking out;(49.53mm)
Throttle No. 3;
pilot jet 35cc
ignition timing BTDC 11/64" ± 1/64"
points gap 0.012"/0.015" or 12 to 15 thou
image for you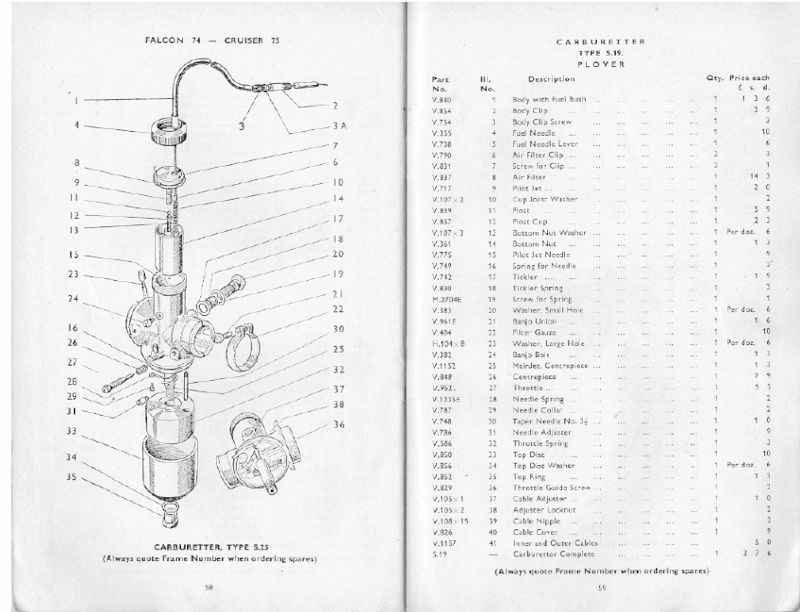 Last edited by Bigjim on Fri Apr 14, 2017 2:48 pm; edited 1 time in total

Bigjim




Posts

: 104


Join date

: 2016-06-13



Brilliant thank you very much , ill let you know how that turns out .

By the way Ifu haven't already been go to the Coventry national motorcycle museum , went yesterday, sure most of u already have , but if u haven't there's thousands , literally thousands of classic motorcycles name a classic bike and they'll probably have it.

Thanks Scott

S.C_07




Posts

: 83


Join date

: 2015-01-11


Age

: 17


Location

: Caterham



You also need to got to the classic bike show a week on Saturday, 22nd & 23rd , at the Stafford show ground

Bigjim




Posts

: 104


Join date

: 2016-06-13



That sounds good , ill give that a look

S.C_07




Posts

: 83


Join date

: 2015-01-11


Age

: 17


Location

: Caterham




Similar topics
---
Permissions in this forum:
You
cannot
reply to topics in this forum