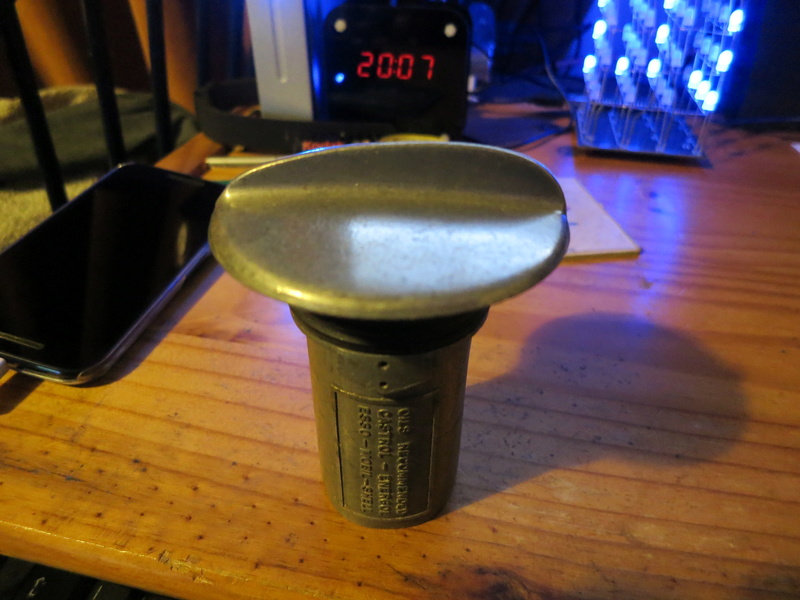 I originally thought it was for a Falcon 87 and it is the right diameter to fit but it's too long to drop into the tank. I'm going to be dumping a lot of my spare stuff onto EBay in the near future and this is one of the bits to go....if I knew what its off. Other bits will be Falcon 87, AMC25T, few bits of James, and the Plover 56 chassis and engine bits - plus S19 carb i picked up along the way. Also odd tatty Bantam bits. I'll probably list them here first for members before the fun(?) of EBay.
Cheers Colin

colk2004




Posts

: 224


Join date

: 2015-04-13


Age

: 55


Location

: York



I have one the same as that I picked up from somewhere . Someone was wanting a cap on here. With the oil part removed it should be the same as the 87

Ken

kerabo




Posts

: 2153


Join date

: 2008-02-11


Age

: 67


Location

: Falcon 87. Trials 93 Special. Powerbike 56. Falcon 81 Green Lane bitsa. Sunbeam S8. Honda Deuville.



Part no. 6510, from a Light Cruiser 79 or later Cruiser 80 (early versions had the recessed filler). The Falcon 87 has the tank set lower down on the top frame member, which would not give enough space for the oil measure. Sandy

FB vincent




Posts

: 596


Join date

: 2009-01-20


Location

: Hertfordshire



Thanks guys. I knew you'd know what is was. Theres no number on it so I was baffled. Original plan was to part off the oil measure part but it seemed a shame as it took me long enough to find the Falcon 87 cap, so didn't want to ruin this one. I'll offload my spare, spares so others can benefit....still after a Falcon 87 rear mudguard

Cheers Colin

colk2004




Posts

: 224


Join date

: 2015-04-13


Age

: 55


Location

: York



Same as the one on my Cruiser 89 but I don't have the oil measure.
When is it going on Ebay please?

Shipbuilder




Posts

: 12


Join date

: 2015-01-12



---
Permissions in this forum:
You
cannot
reply to topics in this forum