Page 3 of 3 •

1, 2, 3

Hi Peter, I was lucky that the headlight shell I got to replace the mashed and dented one came with two white ones in. The original one had one red? If you find another red one I'll see if this one can be removed to make a pair for you - it will need a polish. I had originally bought some perspex rod in two diameters to carve into shape (maybe not the right shape but a shape). I can't believe that no one is making them as every other bike I see at shows has empty square holes where the little beggars should be!

Cheers Col

colk2004




Posts

: 238


Join date

: 2015-04-13


Age

: 55


Location

: York



Hi Colin,

Thanks for reply. Perhaps some kind person with the expertise could make some as you say there must be a great demand.

Peter
After a few years away, and the tank getting lost in the villages surrounding York (don't ask). The side panels and tank are back from the powder coaters. All nicely ethanol proof, lined, welded, etc, etc. Only slight hiccup is one of the side panel transfers has gone slightly translucent with the lacquer. Which considering what I paid to have everything done, dipping, blasting, coating. I'm not complaining.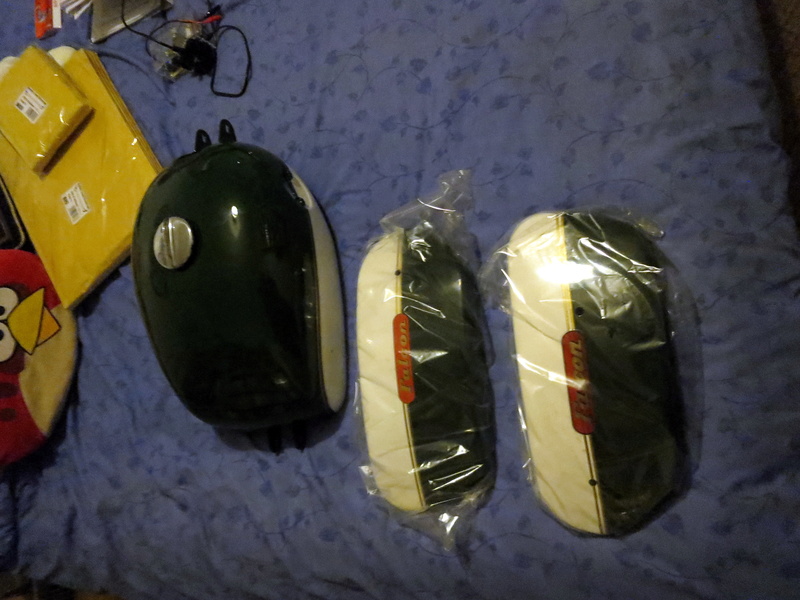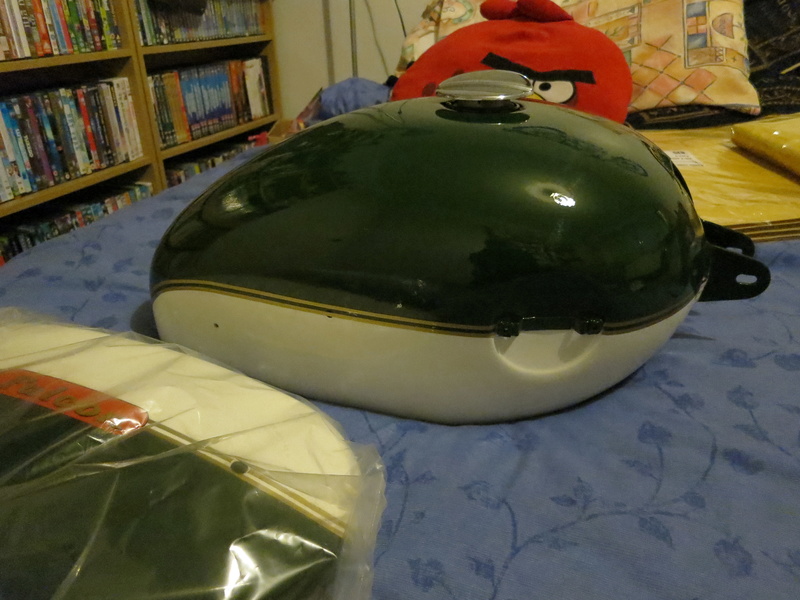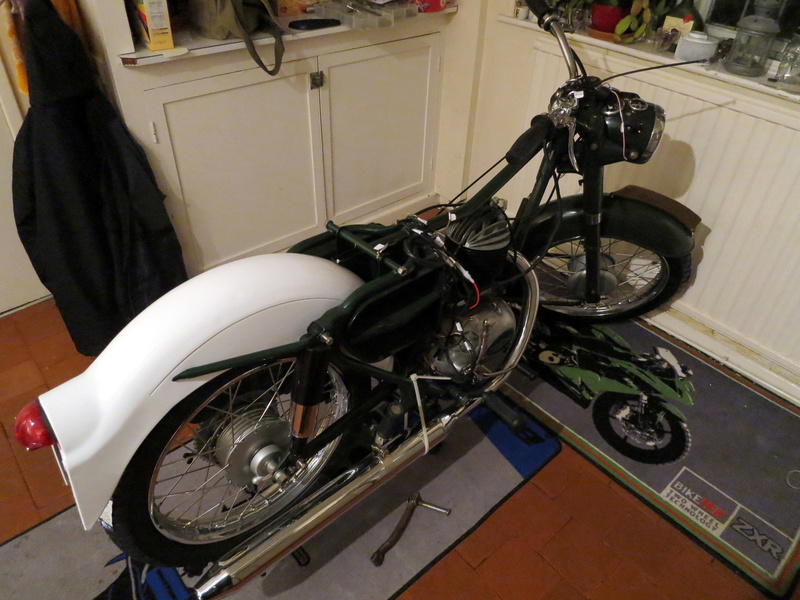 I'd lost enthusiasm when all the bits had vanished, I couldn't locate bits and stuff wasn't fitting - I already have a fault list started but now it's turning round. Then to top it all off, one very generous club member has turned me up a very nice kickstart (the one on the bike, not the splineless one on the floor which is about to donate its top). Seat pan away for covering. So everything is on the move again. One happy bunny.
Cheers Colin

colk2004




Posts

: 238


Join date

: 2015-04-13


Age

: 55


Location

: York



Colin

Your making one hell of a job of that. It's going to be too nice to ride and get dirty.

Well done.
Ken

kerabo




Posts

: 2226


Join date

: 2008-02-11


Age

: 67


Location

: Falcon 87. Trials 93 Special. Powerbike 56. Falcon 81 Green Lane bitsa. Sunbeam S8. Honda Deuville.



Hi Colin,

Glad to see your bike coming together looks very good.

Did you ever find anyone who would make the headlight warning bits?

Peter
Thanks all. Don't worry Ken, once it's done and started it'll get ridden locally. Work, Squires, local shows, etc. Built to show and ride. Peter, I gave up, the original headlight had one red tear drop on the top, I later got hold of another shell with two white ones so that's what its got. I've still never seen one for sale and yet theres loads of bikes at shows without the little perishers.

Cheers Colin

colk2004




Posts

: 238


Join date

: 2015-04-13


Age

: 55


Location

: York



Hi Colin,

Never mind perhaps one day? 

Peter
Colin

That looks a really great job to me the bike looks as if it will be better than the day it came out of the showroom. Well done. Please keep us updated.

Rex

Rex Stewart




Posts

: 21


Join date

: 2017-09-21


Age

: 67


Location

: Aberdeenshire



Looks a very nice job indeed , well done

chrisc




Posts

: 95


Join date

: 2012-07-19



Thanks guys. Not so sure about better than the day it left the showroom. Theres a few bits I need to polish and have a crack at nickel zinc plating. Ans theres been a lot of latitude on original parts. I've done my best but even with the internet some bits have been impossible to find or at least find at a sensible price. But if I can get it road worthy that would be good.

Cheers Colin

colk2004




Posts

: 238


Join date

: 2015-04-13


Age

: 55


Location

: York



Page 3 of 3 •

1, 2, 3

---
Permissions in this forum:
You
cannot
reply to topics in this forum