Just got back from a 50 mile run and thought it would be a good time to change the chaincase oil. I couldn't remember when I'd last done it or if it was running ATF or not as my other bikes now do. Even though the chaincase was leak free sometimes you have to upset things to do the maintenance that otherwise could lead to a breakdown. Well I'm glad I did. The chain is so worn that it has worn a groove in the inner and outer cover and the oil glistens metallic in the sunshine. Is this wear exceptional or typical? I even counted the links to make sure it had the required 58. I've done 2600 miles with this engine which was built by Villiers Services (so I was told). It was fresh from the rebuild when I got it. Whether they fitted a new chain at that point I don't know. Click the picture to see the whole image.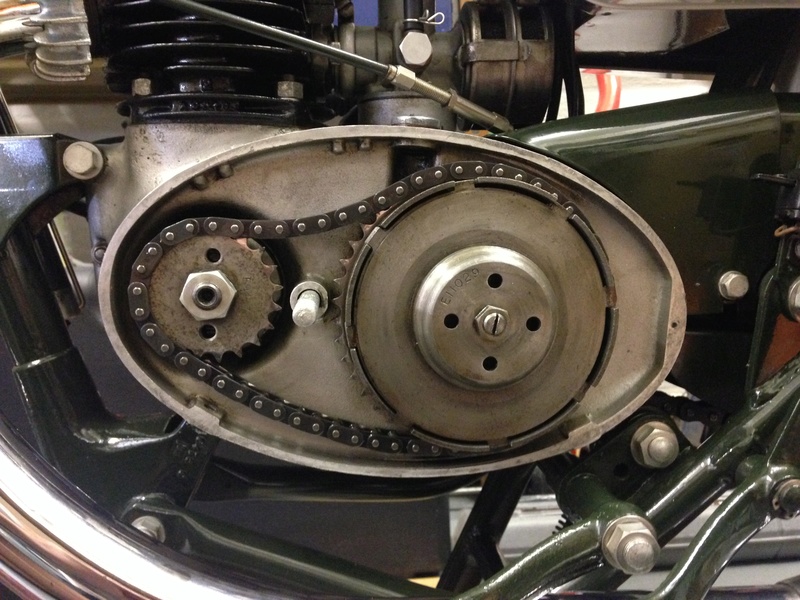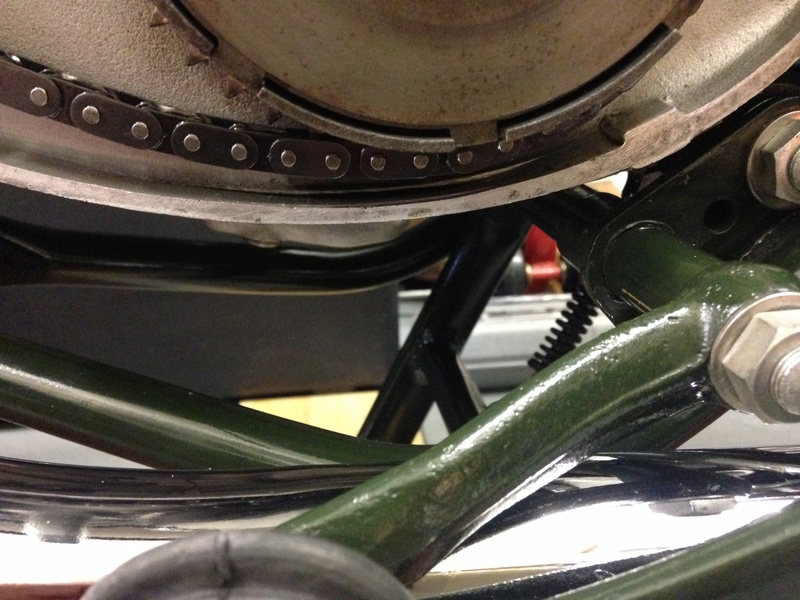 fulmar88




Posts

: 499


Join date

: 2010-03-15


Age

: 51



If you look at the position of the drain plug, removing this will not drain the oil from a 10E engine in a FB unless you put the rear wheel on a block, it is positioned for the sloping 9E engine,so you did right in splitting the chaincases.
Yes you are right the primary chain is mullered, you can tension it by adding extra gaskets between the engine and gearbox, but with this amount of wear the rear mounting engine bolt would be at least a 1/2 hole out from the frame fitting !
You definitely need a new chain !
Maybe a cheap chain? on my cruiser I have a silver coloured ( non stretch, if you believe that ?) Cosworth chain fitted by Jeff Venning and it has been all over Europe, sad news they are in excess of £100.
JH

piston 197

Moderator




Posts

: 3748


Join date

: 2008-08-17


Location

: ross-on-wye



The only marks on the chain is a small E in a circle stamped on some of the links. The picture doesn't show how loose it is. I'm sure I could actually remove it if I tried. Another purchase required but if it don't need fixing every now and then where's the fun?

To think I was doing 62 mph just a few hours ago with that chain.

fulmar88




Posts

: 499


Join date

: 2010-03-15


Age

: 51



Hi Fulmar88,

I have an example of a primary chain with the same marking on the links. I acquired the chain some years ago but did not use it because I noticed that it had split formed rollers as opposed to the solid turned rollers used on quality chains. I would not recommend using split roller (light duty) chains on motorcycle drives.

Regards
Dave.

Druid




Posts

: 53


Join date

: 2014-10-09


Location

: Lancashire



I've just changed the primary chain and have reassembled everything. I'm slightly confused by the correct set up of the push rod adjustment in the centre of the clutch assembly. The book isn't very specific so I screwed the adjuster in, backed off half a turn and locked it with the nut assuming that it would be unwise for them to be touching all the time. It all seems to work fine but is this correct?

Steve.

fulmar88




Posts

: 499


Join date

: 2010-03-15


Age

: 51



Yes should be fine, once the case is put back on the fine adjustment can be done from the other end of the gearbox on the adjuster screw on the clutch arm location , I always put a ball bearing in the mainshaft between the 2 rods as this prevents drive being transferred to the other end of the actuator
JH

piston 197

Moderator




Posts

: 3748


Join date

: 2008-08-17


Location

: ross-on-wye




---
Permissions in this forum:
You
cannot
reply to topics in this forum